Remember those fliers that are shared on the streets , in church and attached to car windshields? The ones with the installmental payment option?
"Buy now and spread the payment over 24 , 36 or 48 months"
Well , just because you buy into these projects and even complete your payment does not guarantee allocation of your land. Imagine the pain and regrets that follow. In another revealing article , omonile lawyer outlines the necessary papers to demand from real estate developers before buying into their scheme. This is a must read for anyone who intends to invest hard-earned money with peace of mind. Enjoy.
Source: omonilelawyer.com
The Number Question i get almost on a Daily basis from People who are buying lands via Installment Payments or have bought lands in Private Estates in Simawa, Mowe-Ofada, Sagamu, Ikorodu, Agbara, Ibeju Lekki, Redemption Camp etc is " What Documents  am I supposed to get from these Real Estate Developers?" or  "What Documents am i to demand from them?" A lot of Purchasers are so confused about the internal workings of buying into a Private Developers Estate that it almost seems Cult like to know what Documents that they are entitled to. A lot of people have complained profusely about some Estates that have refused to allocate them lands months after they have finished Subscribing for these lands while others are simply at loss why they don't have the documents promised to them when they were aggressively marketing the Estate to them.
With this in Mind, i am going to reveal all the Secret Documents you must demand from your Real Estate Developer to provide before, during and after you purchase a land from them whether it's through an Installment payment system, a fully paid up style or It is in a high brow real estate in Lekki or a low income housing estate at Simawa. Please Pay Attention and study these Rules attentively.
1. To Begin with, always demand for the TITLE that the Real Estate Company has obtained, that gives it the authority to start selling that Land they want to sell to you. They must show you cogent proof that they have Government Sanction Documents so as to avoid any ambiguities in Future or Wahala. It should come in the form of a Certificate of Occupancy or Governors Consent or Regularization Document, a Gazette or a Letter of Allocation from the Government. Most of these Real Estate Firms don't have these Documents and you would hear them say they are processing their C of O. If they are truly processing it, ask them for proof of the document they are processing. No matter how bad, they must have one Paper or the other to show that they are truly doing something to regularize their title. It is very important to ask for this Document before you buy because their actions or inactions would impact on you greatly in future. If they weren't processing any Government Document nor have a C of O as promised, when Government Officials come in future to confirm the status of the Estate, the Real Estate Developers will abandon you to your fate and move on. Your excuses that you believed they were truly processing a Government Document would not hold any water and your House may be liable to get demolished or your documents revoked.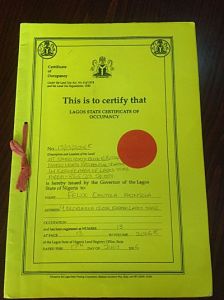 2. After you demand for that Government Document giving them Authority to sell, now demand from them the proof of ownership of the land. The land didn't just drop from Heaven onto their laps miraculously. They probably purchased it from someone or a group of people or family that owned that vast Hectares of land that the real estate developers intend to sell to you. If they purchased it legally they must have a RECEIPT to show proof of purchase from the Previous Owner or Owner(s). If they are reluctant to show you the receipt, know something funny is going on. I have met so many Real Estate Developers that feel they are doing me a favor when i ask them for the Receipt. Some of them refuse out rightly and some become very aggressive when you demand it from them. Either way, it's your right to know and if they don't show it to you, walk away because it's your money and you have the right to choose what you want until they conform.
3.Some Real Estate Developers will tell you that they didn't purchase the Land out rightly but they have some form of agreement with the Original Owners to help them Sell the lands and in return they have a Power of Attorney to show for it. Ask them to show you this Power of Attorney and scrutinize it properly. If you are not sure of the dangers of buying a land with just a power of attorney please read it here: http://omonilelawyer.com/why-you-should-never-buy-a-land-that-has-a-power-of-attorney-as-its-main-source-of-derivingtitle/. It's very risky to buy a land that has a Power of Attorney as its main Title. Demand to confirm the authenticity of this Power of Attorney from the Person or People who granted the Power of Attorney. If they refuse, know there is something fishy going on.
If the Real Estate Firm succeeds in showing you all the documents I have listed above to show proof of ownership and authority to sell, the next document you should ask them for is the General Survey Plan of the Whole area they intend to sell. Any Real Estate Firm that is not ready to show you the GENERAL PERIMETER SURVEY PLAN of the Whole area is seriously asking for trouble. Without that General Survey Plan, what in the Heck are they claiming to sell to you? Forget the Fancy Fliers or the Beautiful Marketers these Real Estate Firms send out to convince you to part with your money to buy into their Estate; not having a General Survey Plan to show you when you demand for it just reeks of incompetence and fraud. The General Survey plan must show how many Hectares or Acres of Land that belongs to the Real Estate Company, the name of the Real Estate Company and the Square meters.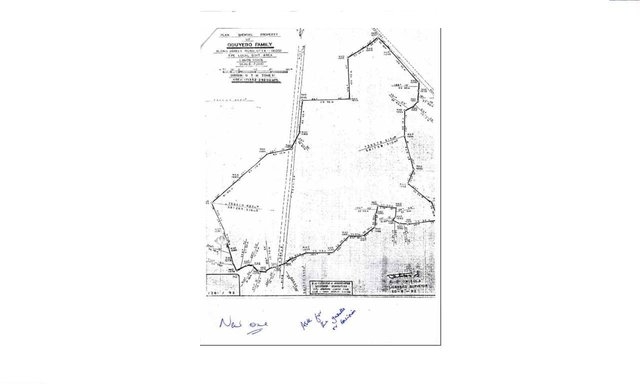 4. Once you are shown the General Survey Plan, You must now ask for the big one: THE LAYOUT OF THE ESTATE PLAN. This Layout is extremely important because it will show the Plot and Block and exact place you are buying. Without this, you are simply buying into a future law suit or wahala. Real Estate Companies that do not have layouts simply are not ready to work or to fulfill their promise of allocating a land to you in the nearest future. It's only going to attract chaos, fights, mistrusts and border issues. It's the greatest form of Laziness on their path and such Estates should be avoided at all cost. How would you know it's the land you paid for?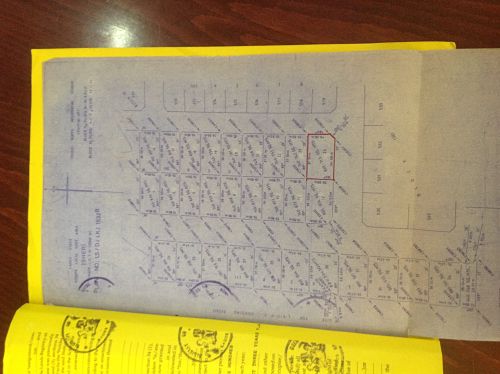 Is it stones or bamboo shoots they are going to use to demarcate your land? What if your land is close to a swamp or a dump or close to a pack of hyenas? How would you know which area of the land is more habitable or has more prospects? Are you going to rely on the words of an Agent whose sole job is to make you part with your money and after it's done, you are history to him? Make sure you demand for that Layout. It could be the difference between you becoming a Landlord or a Future Land Scam Victim. I should know because i was a victim of this non chalant attitude of not demanding for a layout that cost me my land and money.
5. When you get hold of the Land, ask the Real Estate Developer to take you to the land to show you physically. If they take you there, ask the Selling Estate to show you the particular plot and block they intend to sell to you on the layout and to take you to the land to see where it is located. If these things don't correlate, Oga run immediately from them. If stories begin to drop from the sky on how, why and what reasons they cannot show you the site or why the layout is different from the real location of the land, Please Sir or Madam run away from these people ASAP. The Plot and Block number on the Layout must match unless you are about to be Scammed big time.
If after all the Preambles listed above that should prelude the Sale of the Land to you has been furnished and you are satisfied that the Real Estate Firm is on the right Track, then convey your Interest to them that you are now ready to purchase the land or lands that you are interested in. Once you have conveyed your interest to purchase the land, the Real Estate Firm is to give you a LETTER OF OFFER. This Letter of Offer states what they Real Estate Firm intends to offer to you with respect to the price, location, square meters, plot and block number, agency and Legal fees and a host of other things. This Letter of Offer is Very Important to you the Buyer because it states exactly what the Real Estate Firm is offering you and it is binding on them to deliver.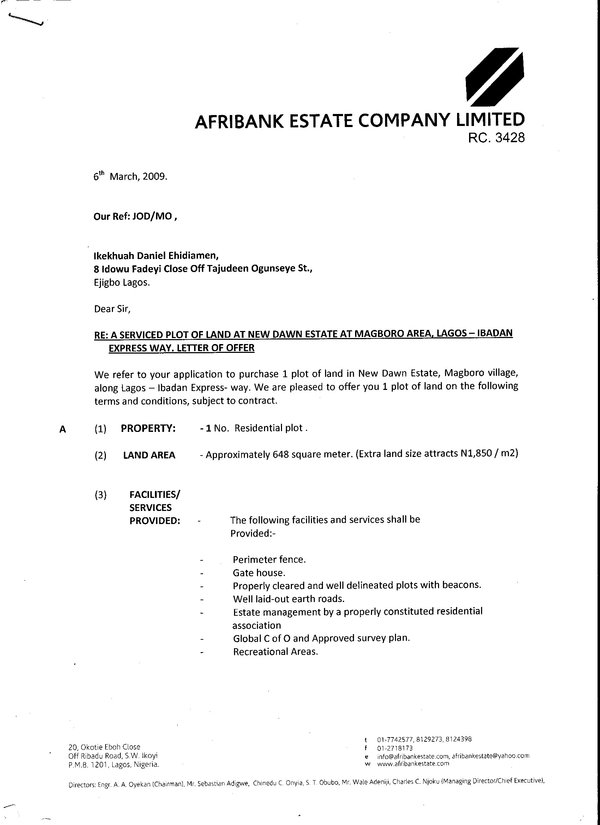 6. After you make Payment to their designated bank or mode of payment, make sure you have copies of the Bank Cheque or Draft or Teller/Slip acknowledged by the Real Estate Firm that they have received your money. Immediately you should be issued a RECEIPT from the Real Estate Firm in Favor of you with the date and full amount that you purchased this Land or Lands from them.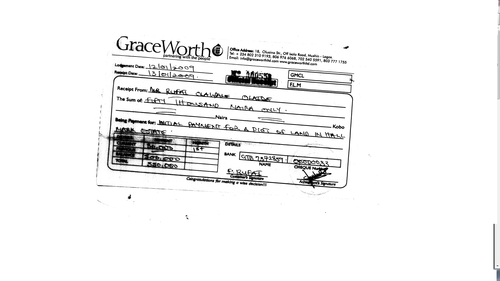 7. After you have been Issued a Receipt, make sure you are Given a LETTER OF ALLOCATION from the Real Estate Firm. This Letter of Allocation should state that your payments have been received and you have fully paid up and subscribed for that land with description of the Plot and Block Number shown to you on the Layout. This Letter of Offer SHOULD BE SIGNED BY EITHER A DIRECTOR OR SECRETARY OF THE FIRM and not just any Staff. This Letter of Allocation is a very Important Document that You must demand for and must keep sacrosanct because it's your first line of defense against the Real Estate Firm in case any dispute is to arise or doubts with respect to the particular plot or land you were given. Without this Letter of Allocation, it will be very difficult to prove which plot or section was sold to you and if you have fully completed payment. If they tell you it is not necessary, make sure you make them make it necessary for you because this could be your life saver in future.
8. Once the Letter of Allocation is given to you, the next document you must demand for is a CONTRACT OF SALE between the Real Estate Firm and You. This Contract of sale states all the terms and conditions that both parties must abide with. It provides for all the dos and don'ts in the Estate and the responsibilities between the Real Estate Firm and the Buyer that should be abided with. It lists all the covenants that the Buyer owes the Real Estate firm to fulfill and the one the Buyer must confirm with for there to be a Successful Transaction.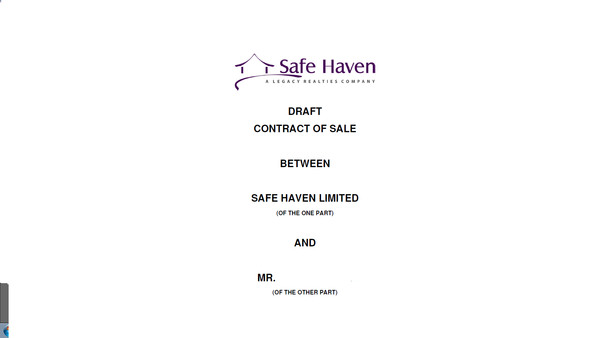 9. After the Contract of Sale has been give to you, the Real Estate Firm should within a reasonable time and i don't think within 1 month is too long for them to prepare a SURVEY PLAN in Your name and draft a DEED OF ASSIGNMENT in your favor. These 2 Documents are extremely important for you to be able to claim possession in the eyes of the Government. The Survey Plan must show all the area, square meters, location, beacon numbers, the survey plan number, seal of the surveyor that did it and the date the Survey plan was done in your name that must be carved out from that plot and block number that can be derived from the Layout that was previously shown to you at the beginning.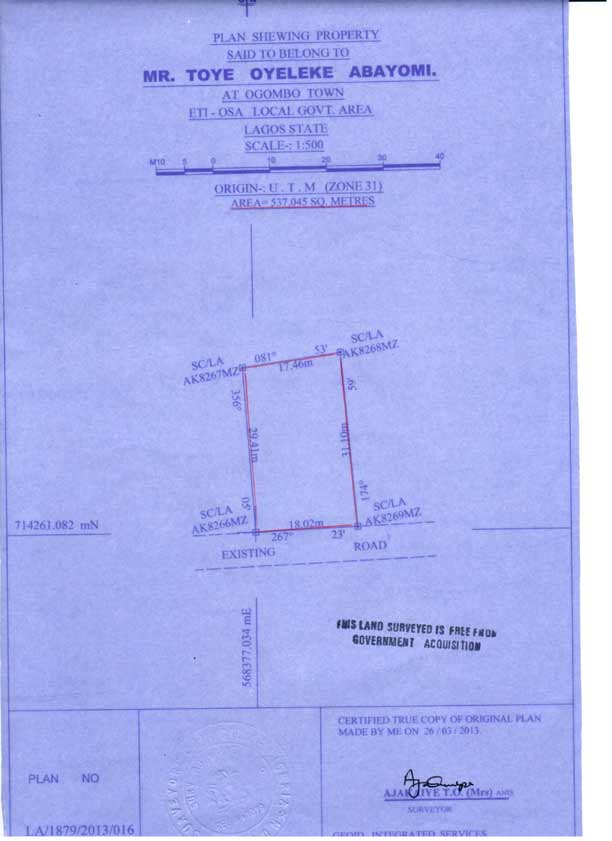 10. Meanwhile the Deed of Assignment is an Agreement between the Seller and Buyer showing evidence that they have fully transferred the Land to you legally. It is the main document you need from the Real Estate Firm to show proof of ownership of the Land and it is this document that you will need to perfect your title in the eyes of the State or Federal Government if need be. These 2 Documents aka the Survey Plan and Deed of Assignment must be in you possession before you can heave a sigh of relief that you are now the true owner of that Land and the Real Estate Firm has fulfilled its own promise to grant you ownership of the Land.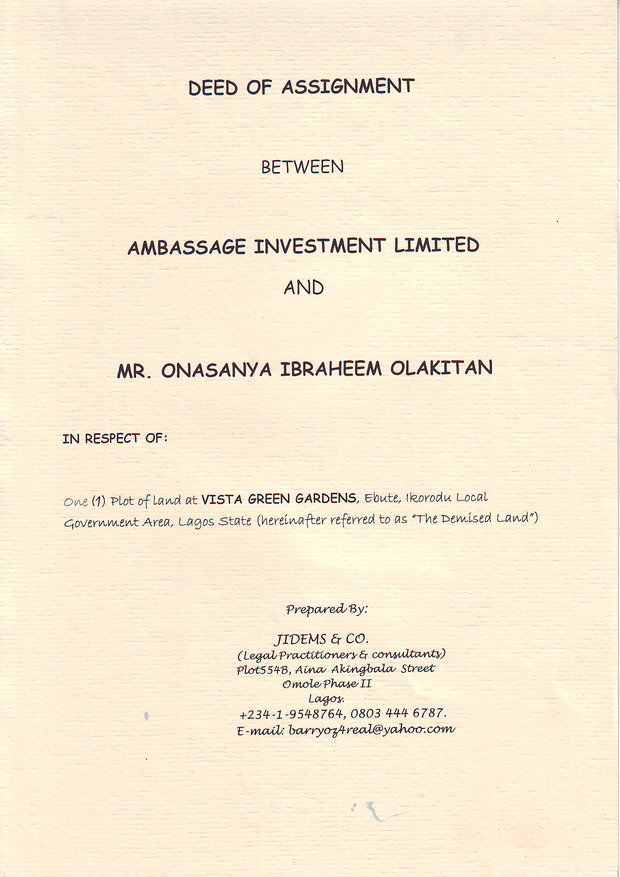 Every Single Document i have listed in this article is extremely important for you to demand from the Real Estate Firm unless you just going to be another Victim of these Bad Real Estate firms that have nothing good to offer you. Also get in touch with the Real Estate developers of Nigeria (REDAN) to get more Info about the Estate you want to deal with.